Fishing is changing for the good of the Earth – advanced bio-based plastic solutions
(By Tassoula Eptakili – www.kathimerini.gr)
Almost 12 million tons of plastic waste end up in the world's oceans every year. Sometimes they travel in the water, creating huge underwater garbage dumps, and sometimes they come ashore. The effects of mindless consumption of plastics and their inappropriate management are well known, given the time they take to decompose: a bottle 500 years, a lighter 100, a plastic bag 55. In fact, plastics never degrade in the marine environment. They become microplastics, stay forever in the water and enter the food chain.
A few years ago, the great zoologist Tom Doyle and his colleagues traveled to the north-west Atlantic on the vessel Celtic Explorer and fished, kilometers off the coast, from depths of up to 600 meters, mid-pelagic fish (those that transport carbon and nutrients from the surface and thus there is life in the turbulent depths of the oceans). Microplastics were detected in 73% of these fish, says coastal engineer Dr. Xenia Loizidou, president of the Board of Directors of the AKTI Center for Studies and Research of Cyprus.

Fishing equipment – fishing nets made of biomaterials
The abolition of the linear model of production – use – disposal of plastics is a necessary condition for dealing with the problem; along with, of course, the decoupling of plastic production from mineral raw materials. Biomass, derived from sustainable sources such as organic waste, can be used to produce plastics reducing the use of precious mineral resources and contributing to the promotion of a circular economy. Plastics produced from biomass are called bioplastics.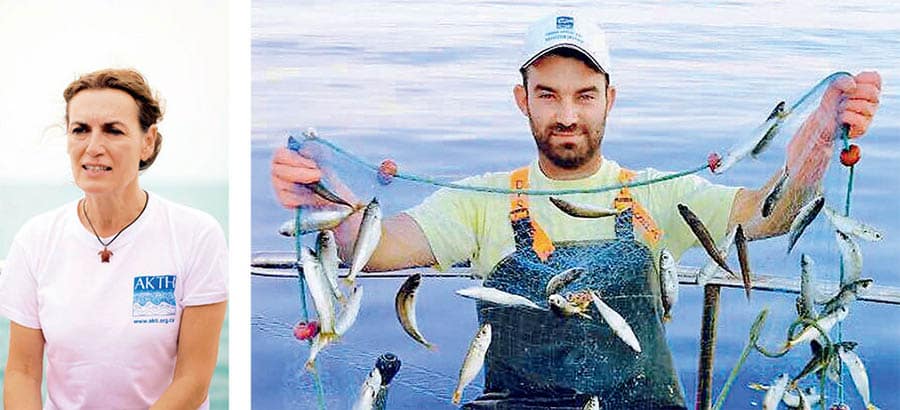 The SEALIVE project unites agencies from 14 countries in Europe and South America and aims to reduce pollution from plastic waste.
This is the pillar of SEALIVE, a €10 million project funded by the European Union, which brings together actors from fourteen countries in Europe and South America and aims to reduce plastic waste pollution on land and at sea – through, firstly, the creation and promotion of the use of new and advanced biomaterials and, secondly, with strategies involving the development and use of bioplastics. Fishing is a field where many and important changes can be made for the good of the planet.
The participating countries in the effort, are Austria, Belgium, the Czech Republic, Cyprus, Denmark, France, Germany, Ireland, the Netherlands, Italy, Portugal, Spain and Argentina. Among the products produced and just beginning to be piloted are reusable and recyclable fishing nets, fish boxes and mesh bags for oyster production.
There is no time
All of Europe is talking today about the immediate need to implement actions for the protection of the marine environment and the development of the Blue Economy. There is no more time, emphasizes Dr. Xenia Loizidou, who participates in the project through the AKTI Center for Studies and Research. We work with fishermen and test the new, innovative nets in real conditions. The results will help to evaluate their effectiveness and functionality and contribute to the advancement of research and the development of more competitive products in the market. Ten Cypriot fishermen will test them for a year, then, and every month they will give their evaluation (photos of damage, if they noticed features that need improvement, etc.). The coordinator is the fisherman Raffaellos Christodoulou, 30 years old, who has been trained in this regard by the manufacturing company ISOTECH, under the scientific guidance of Dr. Loizidou. The nets are made of bioplastic, mainly microalgae. They are compostable, i.e. at the end of their life they can be disposed of in industrial composting units. This is particularly important as in most countries there is no infrastructure available to recycle fishing nets. And in the worst case scenario, if they are lost or discarded in the marine environment, they will break down much faster than conventional nets. No ghost nets will be made.
SOURCE: https://www.kathimerini.gr/society/562205680/i-alieia-allazei-gia-to-kalo-tis-gis/
---
SEALIVE is a €10.26 million European Union Horizon 2020-funded Innovation Action project that has the vision to reduce plastic waste and contamination on land and in seas by boosting the use of biomaterials and contributing to the circular economy with cohesive bio-plastic strategies.
SEALIVE project overview: THE CHALLENGE
Decoupling plastic production from fossil feedstock and creating a circular plastics economy are essential to achieving EU climate, energy and sustainability goals. Approximately 12 million tonnes of plastic waste ends up in our oceans and contaminates our land every year. While there has been a recent shift towards the use of bio-based plastics, these materials have limitations and are not easy to recycle using current technologies. SEALIVE will address all these challenges with a vision to reduce plastic waste and contamination on land and in seas by boosting the use of biomaterials and contributing to the circular economy with cohesive bio-plastic strategies.
In support of the European Plastics Strategy, the consortium's multidisciplinary team of experts will:
1. Develop new bio-based plastic solutions using sustainable biomass sources and efficient processing technologies
2. Optimise sustainable business models and product design strategies for the new solutions
3. Implement pre-normative studies to foster standardization of biodegradable solutions
4. Promote the use of the new solutions by the plastics industry, public authorities and citizens
5. Support the development of European and global bioplastics frameworks for policy makers
6. Improve bioplastic sorting technologies and procedures for end of life solutions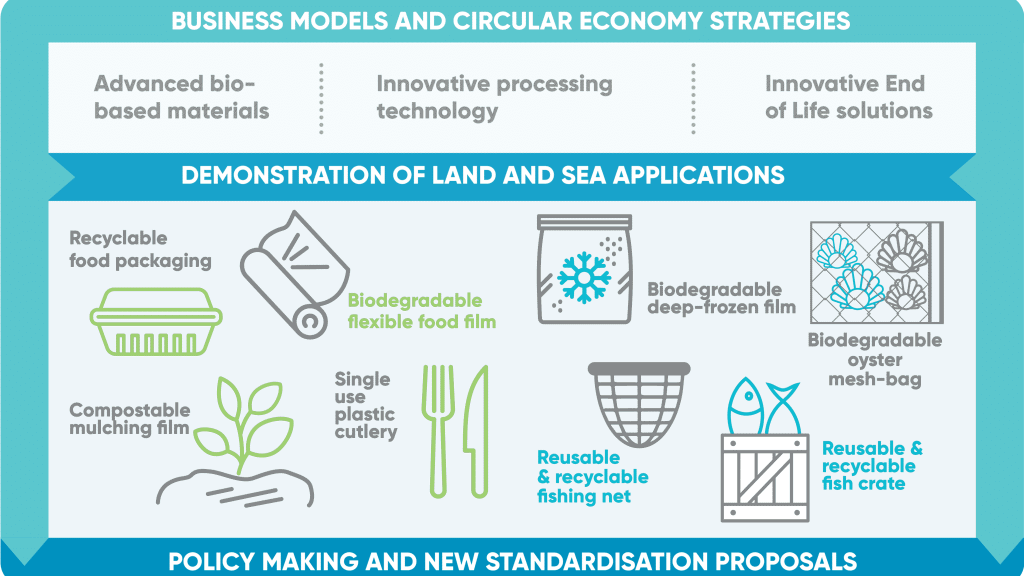 SEALIVE will generate new bio-based plastics with advanced properties and enhanced efficiency, improve processing technologies and product design, and implement effective end-of-life solutions. SEALIVE (Strategies of circular Economy and Advanced bio-based solutions to keep our Lands and seas alIVE from plastics contamination) will bring advanced bio-based plastic solutions to the market, providing viable alternatives to single-use plastics. SEALIVE will reduce plastic waste and contamination on land and in seas by boosting the use of biomaterials and contributing to the circular economy with cohesive bio-plastic strategies. https://sealive.eu/
SEALIVE brings together 24 partners and five linked third parties from 13 different countries across Europe (Austria, Belgium, Cyprus, Czech Republic, Denmark, France, Germany, Ireland, Italy, the Netherlands, Portugal, Spain) and South America (Argentina). The consortium consists of 10 Small to Medium Enterprises (SMEs), 2 Universities, 4 Research and Technology Organisations (RTOs), 3 Non-Profit Organisation (NPO) and 4 large companies.
SEALIVE – Strategies of circular Economy and Advanced bio-based solutions to keep our Lands and seas alIVE from plastics contamination
ADVANCED & FUNCTIONAL TECHNOLOGIES FOR BIOCOMPOSITES SL – Spain
AKTI KENTRO MELETON KE EREVNAS – Cyprus
CENTRE TECHNIQUE INDUSTRIEL DE LA PLASTURGIE ET DES COMPOSITES – France
CLERMONT AUVERGNE INP – France
CENTRE NATIONAL DE LA RECHERCHE SCIENTIFIQUE CNRS – France
INSTITUTE FOR EUROPEAN ENVIRONMENTAL POLICY – Belgium
COMMISSARIAT A L ENERGIE ATOMIQUE ET AUX ENERGIES ALTERNATIVES – France
ORGANIC WASTE SYSTEMS NV – Belgium
ERINN INNOVATION LIMITED – Ireland
NEXT TECHNOLOGY TECNOTESSILE SOCIETA NAZIONALE DI RICERCA R L – Italy
AUSTRIAN STANDARDS INTERNATIONAL -STANDARDISIERUNG UND INNOVATION – Austria
PELLENC SELECTIVE TECHNOLOGIES – France
UNIVERZITA TOMASE BATI VE ZLINE – Czechia
GREENOVATE ! EUROPE – Belgium
INVESTORNET-GATE2GROWTH APS – Denmark
CNG EMBALLAGES INDUSTRIELS – France
VENVIROTECH BIOTECHNOLOGY SL – Spain
TOTALENERGIES CORBION BV – Netherlands
GRUPO IBERICA DE CONGELADOS SA – Spain
IBERCONSA DE ARGENTINA SA – Argentina
OBEN PORTUGAL SA – Portugal
POLIGAL GLOBAL SERVICES SL – Spain
SP BERNER PLASTIC GROUP SL – Spain