(* source: www.sailingissues.com – by Diederik Willemsen)
Marine Navigation courses (FREE)
Find advanced online course on marine navigation for offshore sailing. All though nowadays most sailors rely on maritime navigation and positioning equipment like the use of GPS / Galileo / GLONASS and Radars to navigate, by navigating by yourself is a lot more fun,
Learn navigation to sail at any sea by only using nautical charts (digital or paper nautical charts), a compass and common sense. The aim of these courses is to teach you how to navigate safely while using the minimum of resources – methods that have been in use since the Middle Ages, and are still in use today by professional mariners.
These marine navigation courses extend on the ASA and RYA courses and gives you the insight and feel of a seasoned navigator.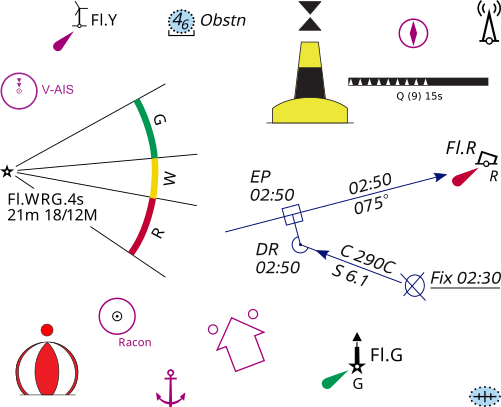 Click on the links below to study the chapters
(VISIT THE WEBSITE OF Diederik Willemsen to get great info and tips on sailing)
Chapter 1 – Positions
Chapter 2 – Nautical chart
Chapter 3 – Compass
Chapter 4 – Plotting and piloting
Chapter 5 – Plotting and piloting – Advanced
Chapter 6 – Tides
Chapter 7 – Tide prediction
Chapter 8 – Currents
Chapter 9 – Navigation aids
Chapter 10 – Lights and Shapes
(* source: www.sailingissues.com – by Diederik Willemsen)